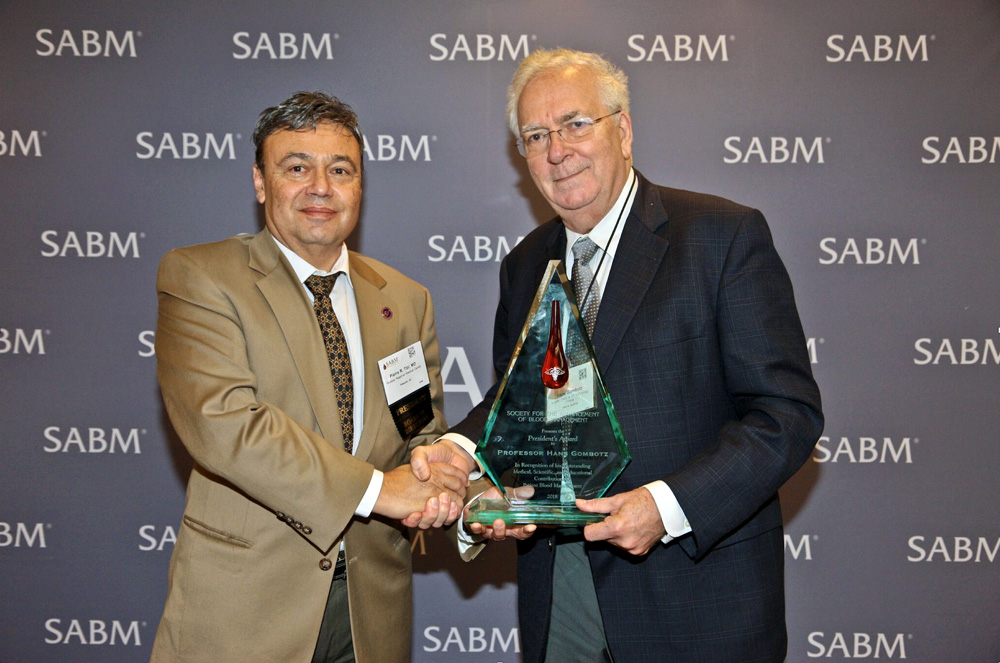 (SABM President Dr. Pierre Tibi awards Prof. Hans Gombotz the 2018 SABM President's Award)
Sept. 2018; New York, USA: Trustee of IFPBM and former head of Anesthesiology and Intensive Care at Linz General Hospital, Prof. Hans Gombotz, has received the 2018 SABM President's Award. SABM is a US-based multidisciplinary professional medical society, dedicated to improving health outcomes, increasing safety, and reducing healthcare costs through the advancement of scientific knowledge and practice in Patient Blood Management (www.sabm.org).
The award is presented annually at the Society's Annual Meeting in recognition of those who have made outstanding medical, scientific and/or educational contributions to Patient Blood Management and who have contributed to the public good in the area of blood safety and the reduction of unnecessary transfusions.
IFPBM Trustee, Prof. Hans Gombotz, states: "I am both honoured and humbled to receive the 2018 SABM President's Award. It is thrilling for me to see Patient Blood Management being accepted around the world as the gold standard of practice."
Prof. Gombotz has a long history with Patient Blood Management in Europe. From 2005 to 2010 he was the principal investigator of the First and Second Austrian Benchmark Studies on Blood Use in Elective Surgeryand in 2010 he developed Austria's first Postgraduate Patient Blood Management Course at the University of Graz.
From 2013 to 2016 he was the Chairman of the Patient Blood Management Project of the European Commission, managing pilot projects in five European University Hospitals. The project included developing an official Patient Blood Management hospital implementation guide and an official guide for Health Authorities for Building National Patient Blood Management Programs.
He was also responsible for the implementation of Austria's first hospital-wide Patient Blood Management program at the General Hospital Linz, Austria and was a Member of the International Faculty of the Western Australia Department of Health Patient Blood Management Project from 2008 to 2012.
Prof. Gombotz has also been a Trustee of IFPBM since formation in 2016.