Prof. Dr. Hans Gombotz
OBITUARY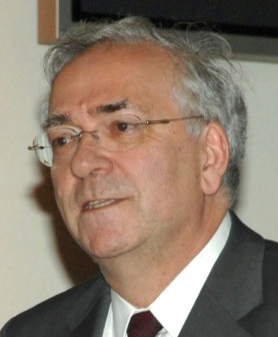 After a long battle with cancer and in his 73rd year, Prof. Dr. Hans Gombotz passed away on September 13, 2021. We are mourning over the loss of a brilliant scientist, respected peer, valued colleague, caring physician and – for many – a loyal friend.
Hans was born and raised in Styria, Austria. In 1977, he graduated as a Medical Doctor at the Karl-Franzens-University in Graz, Austria, where he soon became a Specialist for Anesthesiology, Intensive Care and Emergency Medicine. In 1990, he was appointed as a Lecturer for Anesthesiology and Intensive Medicine at his University. In 1995, he became Associate Head of the Clinical Department of Cardiac Anesthesiology, Vascular Surgery and Intensive Care Medicine and in 1996 he was appointed as Associate Professor. In 2001, Hans moved to the General Hospital in Linz where he became Head of the Department of Anesthesiology and Intensive Care and where he worked until his retirement in 2014. During this period, he also served for one full term as President of the Austrian Society of Anesthesiology, Resuscitation and Intensive Care.
Hans finished his career as an active physician by organizing a symposium titled "Anesthesia and Beyond", an event that coincided with the 60th anniversary of his department in Linz. In the invitation to the program, he wrote: "For me personally, this symposium also means the completion of a long, fulfilling career. After 40 years of passion dedicated to medicine and clinical research, I will finally take my leave to open a new chapter in life", and so he did! More than ever before, he dedicated his time and energy to further the implementation of Patient Blood Management (PBM) as a global standard of care. This involved his role as Chairman of the PBM Project of the European Commission to develop a PBM implementation guide for hospitals and a guide for Health Authorities for Building National PBM Programs, the revisions of the clinical PBM textbooks where he was lead author, writing editing and reviewing PBM related papers, lecturing internationally, giving television interviews, and supporting serious investigative journalism to increase awareness on patient safety issues. In 2018, he received SABM's President's Award for his accomplishments.
Hans was a founding member and board member of NATA, and of IFPBM, where he attended his last board meeting in July despite his severe health condition. He may be best described as a 'force of nature', a man committed in all he did, not always diplomatic, respected by friends and feared by enemies. He was a diligent researcher, a sharp reviewer, a good writer, a strong leader, but first and foremost a passionate physician and a courageous patient advocate. He was very interested in history, particularly contemporary history. He played the piano, loved fine arts and rarely missed the latest program of the Vienna Philharmonics. Hans had a strong sense of justice, a character full of humor and wit, and emotional depth. Dear Hans, together with your dear wife Ilse, your beloved son Thomas and his dear Carolin, we truly miss you.