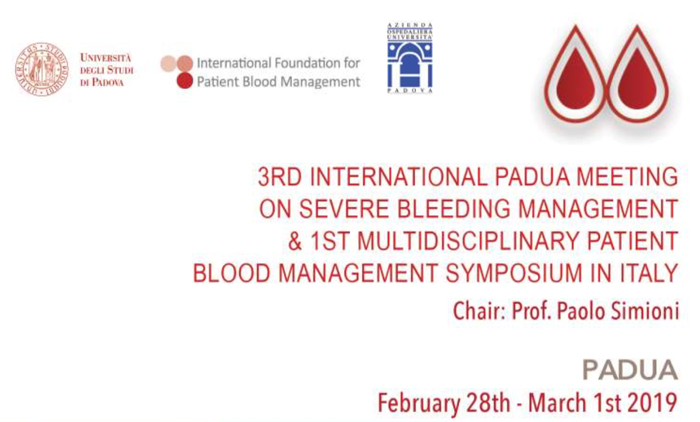 January 2019; Padua, Italy: The 1st Multidisciplinary Patient Blood Management Symposiumin Italy and 3rd International Meeting on Severe Bleeding Management will be held in Padua, from 28th February to 1st March, 2019. The International Foundation for Patient Blood Management (IFPBM) is a co-sponsor of this landmark event. Founded in 1222, Padua University is one of Europe's oldest universities. The Multidisciplinary Patient Blood Management Symposium, the first of its kind in Italy, will focus on advancing Patient Blood Management (PBM) in Italy.
Chairman of the event, Professor Paolo Simioni, said; "In Italy during the last few years, a growing number of professionals from various specialties have shown their interest and commitment to disseminate and implement PBM as the new standard of care. We are excited that Padua University will be the venue for the very first Italian Patient Blood Management Symposium. The theme of the Symposium is 'Improving Outcomes through Patient Blood Management – Evidence, Economics and Medico-Legal Aspects'. The event will highlight the latest clinical evidence on PBM, discuss other related aspects and interact with experts and key opinion leaders from Italy and abroad. Our aim is to foster multidisciplinary interaction and cooperation through Patient Blood Managementand educate the medical community of its benefits."
IFPBM Scientific Associate Professor James Isbister will deliver the keynote lecture; 'Are we treating the haemopoietic system with the same respect as every other body system?'. Other IFPBM Scientific Associates who have been invited to lecture are Professor Aryeh Shander, Professor Jens Meier, Professor Domenico Girelli and Mr. Kevin Trentino. Dr. Matti Aapro, an IFPBM Trustee, will also present.
Another trustee of the International Foundation for Patient BloodManagement and guest speaker at the Summit, Dr. Axel Hofmann, will present the lecture 'Clinical and health-economic implications of poorly managed anemia'. Dr. Hofmann is a Visiting Professor at the Institute of Anesthesiology, University Clinics Zurich, Switzerland. Dr. Hofmann stated: 'IFPBM is privilegedthat we can support this PBM event in Italy. We look forward to working alongside the Medical Faculty of Padua University, and indeed other institutions worldwide, to advance the knowledge and implementation of PBM'.
More information and the program of the 3rd International Padua Meeting on Severe Bleeding Management and 1st Multidisciplinary Patient Blood Management Symposium is available for download here.