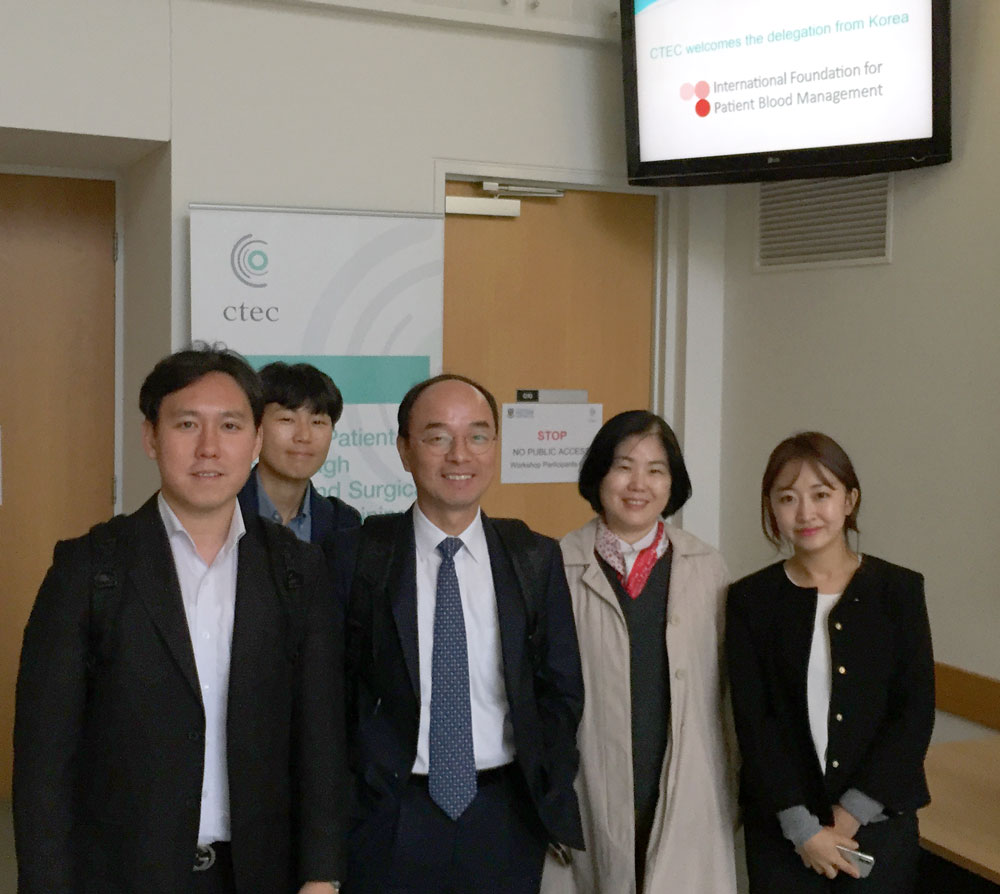 (From left to right: Byung Ju Lee, Eun Jung Lee, Tae Hyun Um, Myung Han Kim, Jin Lee)
Perth, Australia: A delegation of senior health care professionals from South Korea recently visited Western Australia to learn more about patient blood management implementation. The visit by Professor Um, Inje University and Ilsan Paik Hospital, along with Doctor Kim and colleagues from the Korean Red Cross Blood Service included a series of lectures and meetings with clinicians and hospital executives, a tour of facilities at the Clinical Training and Evaluation Centre, University of Western Australia, and site visits to three tertiary hospitals.
Professor Um described the visit to Western Australia as "a moment that will be remembered as a historic day for patient blood management in South Korea."
Western Australia is regarded by many experts in the field as an international leader in patient blood management. Dr Simon Towler, Chief Medical Officer at the time of implementation, said "The global attention the Western Australia Patient Blood Management program continues to attract is evidence it is considered a leader by the international medical community."
The results of a six-year Western Australia Department of Health Patient Blood Management Program study run in Perth, Western Australia were published in the peer-reviewed journal Transfusion in February 2017. The study was a retrospective cohort study of 605,046 patients admitted to four major adult tertiary-care hospitals between July 2008 and June 2014. The positive outcomes highlighted in the study included a 28% reduction of in-hospital mortality; the average length of stay in the hospitals was reduced by 15%; hospital-acquired infections dropped by 21% in two hospitals where data was collated; the incidence of acute myocardial infarction (heart attack) or stroke decreased by 31% - all while reducing average blood usage by 41%. Based on published activity-based costs of transfusion, the gross savings in this six-year study are estimated to be between 80-100 million Australian dollars (US$78M-97M). (Read full article)
Mr Shannon Farmer, Adjunct Research Fellow at The University of Western Australia Medical School and Division of Surgery, and Scientific Associate of IFPBM added, "Given the implications for improved patient care and reduced costs, governments and health systems are increasingly becoming interested in the implementation of PBM programs."