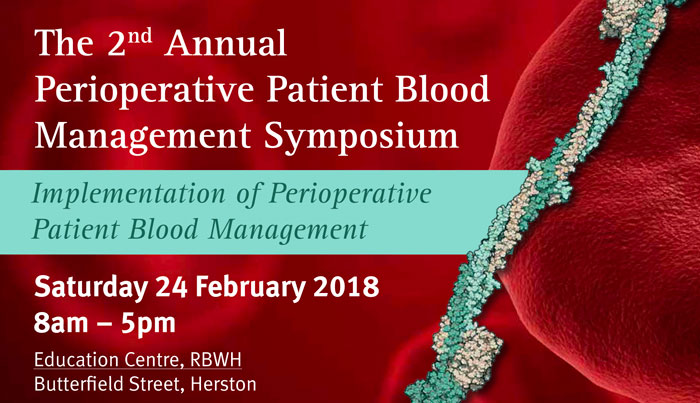 The 2nd Annual Perioperative Patient Blood Management Symposium – Implementation of Patient Blood Management – hosted by the Centre for Excellence and Innovation in Anaesthesia (CEIA) – will be held in Brisbane, Australia on the 24th February 2018. Local, national and international experts will present state-of-the-art knowledge and the latest research on Patient Blood Management (PBM).
Convenor of the Symposium, A/Prof Dr Kerstin Wyssusek, stated "PBM is complex and its implementation often presents many challenges. The Symposium will focus on the importance of evidence in PBM in general and Perioperative PBM in particular. Presented on the day will be the latest advice on PBM implementation strategies as well as perioperative approaches to minimise blood loss and apply point of care guided transfusion strategies." Dr Wyssusek is the Director of the Department of Anaesthesia and Perioperative Medicine at the Royal Brisbane and Women's Hospital (RBWH) and chair of the RBWH Perioperative Patient Blood Management committee.
The keynote speech of the Symposium, "Implementation of Patient Blood Management", will be delivered by A/Prof Axel Hofmann, a Director of The International Foundation for Patient Blood Management (IFPBM). IFPBM Scientific Associate Prof James Isbister will present an outlook on the future of PBM and A/Prof Bernd Froessler, also an IFPBM Scientific Associate, will provide an update on anaemia management.
The full program with registration link of the 2nd Annual Perioperative Patient Blood Management Symposium including workshops and poster submission form may be viewed at www.isopbm.org